Our 2021 watch list points to some green shoots of optimism with several digital-first brands bringing colour, humour and new energy to dry and dusty categories. In a world increasingly dominated by Big Tech and mega corporations, three trends stand out: new collaborations between smaller brands as a strategy for taking on the big guys, an increased focus on building out their model and tech stack to take back control and doing well by doing good. First, in a two-part series.
Stranger & Sons: for making gin interesting.
The G&T is enjoying something of a revival in India. Small-batch distillers are popping up across the country. Yet one brand stands out for its ambition to lead a craft spirits revolution in what is largely a whisky market. Stranger & Sons distills the essence of India--its myths, legends, and flavours in a wonderfully strange way. And brings it alive through its playful identity, packaging and theatrical drinking experiences.
In a country where promoting alcohol is a challenge, it has created a range of distilled, gin-based cocktails in collaboration with fine bars and restaurants such as CinCin and The Bombay Canteen (available only when you dine-in) and special tonics and kitchen ingredient garnishes matched to its artisanal gins. It is distinct, well presented and smacks of quality which is important if Indian gins are to hold their own against global favourites.
2. The Better India: for good content, community and commerce.
Conventional wisdom has it that: Commerce > drives Content > which builds Community. The Better India, a media platform, has flipped that model on its head with Content > that builds Community > which drives Commerce. 
In a world of sensational headlines, it showcases positive news of unsung heroes and grassroots innovation. It boasts 100 million unique visitors a month with the bulk of its revenue coming from co-branded content and advertising. Last year, it launched a D2C subscription kit of eco-friendly home cleaners called The Better Home— hitting Rs 1 crore in monthly revenue within 9 months. 
3. Rebel Foods: for disrupting the restaurant and food delivery industry.
With the aim of giving back control to consumers who order food online, Rebel Foods, which operates 325 cloud kitchens nationwide has now launched its own app: EatSure. Users can order from multiple restaurants in the same order. However, unlike food delivery aggregators which have no control over the quality of food prepared, Rebel is taking control of the 4 Ps: i.e. people, process, produce and packaging. Partner kitchens adhere to 200+ quality checks, including maintaining the right food temperature, following sanitary protocols and zero use of artificial flavours or colouring.
Rebel is investing heavily in robotics and kitchen automation to manage its supply chain, aggregators, and kitchen operations. It has created a new operating system called Rebel Launcher to bring multiple local and international food brands onboard. Already, it has inked its first partnership with Wendy's--the world's third largest burger brand, to scale its presence to 50+ cities.
4. Zerodha: for reducing the barriers to trading and investing.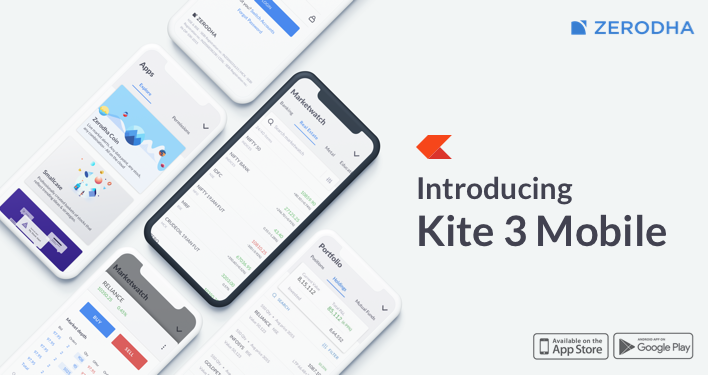 Zerodha (which means zero barriers) has been reducing the barriers to investing in terms of cost, support and technology for over a decade. In 2020, it attracted young investors in droves, who engaged in a frenzy of day-trading on their phones. Unlike their parents, who prefer the safety of fixed deposits, they are using technology to invest in shares and bonds directly.
The platform runs a number of online educational initiatives to empower retail traders-- explaining complex financial concepts in layman terms. It has also designed nudges to prevent punters from potentially risky trades. With zero advertising costs, it has over 4+ million clients placing millions of orders every day through its investment platform, contributing over 15% of all Indian retail trading volumes. As the zero commissions model gains popularity, this generation is more likely to trust an app than their bank or broker.
5. Switch Fix: for making personal care about a clean and conscious lifestyle.
In a category where ingredients and benefits are key differentiators for clean and healthy skin, one brand is flipping that narrative on its head. Switch Fix, a new-age personal care brand known for its plastic-free packaging, cruelty-free and water-saving agenda, is making a clean and conscious lifestyle aspirational.
It recently launched a line of body scrubs in collaboration with premium coffee brand Blue Tokai. In this circular approach, re-purposed coffee waste is collected, sun-dried and blended with plant-based oils and butter to create exfoliation products. As brands latch on to the sustainability 'brandwagon', consumers will find those that walk the talk more credible.
Studio Jigsaw
Is a brand and innovation consultancy. We define a core story and build it into new products, services, experiences and communications. To build brands that matter. Brands that thrive in a world of change.
As the world changes, challenger brands never stay still and there's always new things to learn. That's why we're always out there-- talking to, working with, and studying what the latest generation of challengers are doing. It's how we stay curious and inspired, and what gives us the knowledge and expertise to help you.
Like what you read? Consider subscribing to our free monthly newsletter.